Apr

24

St. Kitts Music Fest: First set of performers have been announced!
BASSETERRE, St. Kitts - ORGANISERS of the annual St. Kitts Music Festival have announced some of the artistes who will grace the stage for the 19th staging of the event from June 25-27.
Artistes such as Kerwin Du Bois, Benjai, Ricardo Drue and Patrice Roberts will perform on the opening night of the festival, which is dubbed 'the Jump Up Night', while the following night will see Reggae stars Christopher Martin and Bounty Killer.
Speaking at a press conference today (Apr.23), Music Festival Production Manager Adrian Lam, while announcing some of the artistes, indicated that the Music Festival has become a leading event in the Caribbean.
"The St. Kitts Music Festival has become one of the signature events not only in St. Kitts but the Caribbean in general. It is one of the longest running festivals in the Eastern Caribbean and of the top five in the Caribbean. It also remains one of the most affordable festivals in the region."
He stated that despite financial constraint the festival continues to put together a very good list of fine artistes.
"We still have some important contractual work with a few artistes although they have committed, so we will be announcing those who we have contracted as of today."
Lam disclosed that a social media campaign was embarked upon to ascertain which artiste the public would like to see perform at the festival.
Minister of Tourism Hon. Lindsay Grant stated that despite external challenges the festival continues to attract large followings.
"The Music Festival comes amidst the challenges of external forces such as increase in travel fares and high production and performance fees. Fortunately, the results and economic impact over the past two years have shown that the festival continues to attract followings from within the region and also from the continents."
He gave the Government's commitment to further improve the festival.
"We take immense pride in being the organisers of a world-class musical product that satisfies the musical tastes of all patrons. Our goal going forward is to continue to set higher standards of excellence and attract even larger followings celebrating an exuberant festival."
Grant also highlighted the significance of the Music Festival.
"True to its vision, the St. Kitts Music Festival has become a magnet in our tourism industry. It attracts visitors and returning nationals in the slow period. And now in its 19th year has become an integral component of our tourism product impacting positively on commercial activity and generating income which serves to stimulate the economy."
Music Festival Chairman Faron Lawrence promised that improvements would be made to this year's event.
"We will continue in the trend by making this year an improvement from last year. I am quite confident that, based on what we have in store, Music Festival will go to a next level.
"I must admit we have had some challenges this year; but I must hasten to say those are challenges we've had in the past... we have been just as late."
Source: http://www.sknvibes.com/news/newsdetails.cfm/91677
---
Nov

26

Over EC$100 million in goods and services exported from St. Kitts and Nevis to the U.S. in first 9 months of 2013
St. Kitts and Nevis continues to be the leading exporter of goods and services to the United States within the Organization of Eastern Caribbean States (OECS).
According to foreign trade statistics issued by the US Census Bureau, exports from St. Kitts and Nevis to the United States for the first nine months of this year were valued at US$39.9 million or EC$107.7 million.
For the first nine months of this year, Antigua and Barbuda exported US$7.2 million (EC$19.4 million) to the United States; Dominica, US$2.1 million (EC$5.6 million); Grenada, US$8.1 million (EC$21.8 million); St. Lucia, US$11.7 million (EC$31.5 million); St. Vincent and the Grenadines, US$1.9 million (EC$5.1 million); Anguilla, US$7.2 million (EC$19.4 million ); British Virgin Islands, US$5.3 million (EC$14.3 million); Montserrat, US$1 million (EC$2.7 million).
St. Kitts and Nevis also led the OECS and Barbados in goods and services exported to the United States in 2012 with a value of nearly US$106.3 million (EC$297 million).
The value of exports to the United States in 2012 from Antigua and Barbuda were valued at US$9.6 million (EC$25.9 million); Anguilla, US$3.6 million (EC$9.7 million); Dominica, US$1.7 million (EC$4.5 million); Grenada, US$8.4 million (EC$22.6 million); St. Lucia, US$15.2 million (EC$41 million); Montserrat, US$1. 8 million (EC$6.7 million); St. Vincent and the Grenadines, US$2.3 million (EC$6.2 million) and the British Virgin Islands, US$12.9 million (EC$34.8 million).
Between 2000 and 2011 St. Kitts and Nevis also led the OECS and Barbados with goods and services to the United States valued US$115.8 million (EC$312.6 million) in 2011; US$131 million (EC$353.7 million) in 2010; US$108.1 million (EC$291.8 million in 2009); US$123.9 million (EC$334.5 million) in 2008; US$110.7 million (EC$298.8 million) in 2007; US$127.2 million (EC$343.4 million) in 2006; US$94.1 million (EC$254 million) in 2005; US$60.3 million (EC$162.8 million) in 2004; US$58.8 million (EC$158.7 million) in 2003; US$49.5 million (EC$133.6 million) in 2002; US$40.3 million (EC$108.8 million) in 2001 and US$58.3 million (EC$157.4 million) in 2000.
St. Kitts and Nevis companies exporting to the United States and their products are Lutron Liamuiga (dimmer switches and fan speed controls); API Harowe (St. Kitts) Ltd (small motors, PC Board Assemblies, Rotor Assemblies and resolvers); Kajola-Kristada (connectors, filters, trap and surface mounts; for the Cable TV and Communications Industry); CSR/DDL (CSR rum/brand), Brinley (flavoured rum products) and Jaro Electronics (industrial motors and transformers. Although Caribelle Batik does not directly ship its products in boxes to the United States, visiting American tourists accounted for a large percentage of sales.
Source: http://www.cuopm.com/newsitem_new.asp?articlenumber=4038&post200803=true
---
Oct

25

St. Kitts and Nevis, one of 10 Caribbean destinations where tourist arrivals growing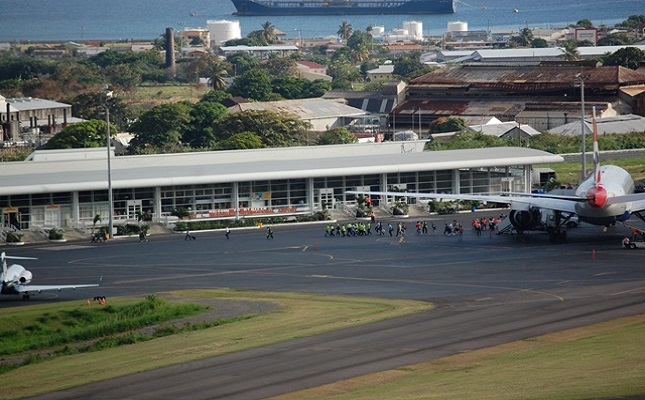 BASSETERRE, St. Kitts, October 24th 2013 (CUOPM) - The Barbados-based Caribbean Tourism Organisation (CTO) says St. Kitts and Nevis is one of 10 tourism destinations in the Caribbean where tourist arrivals are growing faster than the world average.
According to the Jamaica Gleaner newspaper arrivals to the Caribbean remain flat, despite 15.6 million tourists visiting the region between January and July this year.
Chairman of the Caribbean Tourism Organization (CTO), Beverly Nicholson-Doty said there was no incremental difference when compared to the same period last year, but actual levels still remain above pre-crisis levels.
The CTO chairman told the media during a briefing on the final day of the State of the Industry Conference at the Madiana Palais des Congrès Convention Centre in Martinique last Friday that the findings, which were compiled by the CTO, show results from 18 destinations within the Caribbean.
She said seventeen of them recorded increases in tourist arrivals, with 10 growing faster than the world average of 5.2 per cent.
The 10 include Anguilla, Aruba, Belize, Cayman Islands, Curacao, Guyana, Haiti, Montserrat, St. Kitts and Nevis, and Suriname.
Jamaica was not included in this list, owing to the closure and refurbishing of several hotels.
Indications are that the best-performing sub-region is the Dutch Caribbean, which recorded a 4.6 per cent increase over the corresponding period last year, while other markets such as South America have been doing exceptionally well.
While the United States (US) remains the region's largest source market, only a marginal growth of 0.8 percent was recorded in the January to July period, revealed CTO Secretary General Hugh Riley.
Riley said about 7.8 million tourists visited the region from the United States, an indication that the market share for the US rose slightly, moving from 49.6 percent in 2012 to 50.4 percent.
In the case of the Canadian market, which was referred to as the saving grace up to two years ago, there was contraction by 1.5 percent for the same period.
Riley, pointing out that the market share fell marginally to 13.1 percent, said 2.1 million Canadians visited the region in 2013 compared to 2.2 million in 2012.
Canadians took 1.6 percent fewer outbound trips to places other than the US. Their trips to the United States increased by 4.3 percent, a shift that statisticians at the CTO warn should be noted.
Not surprising, European arrivals to the Caribbean declined by 5.1 percent so far this year, a situation many still blame on the air passenger duty imposed by the United Kingdom.
The Organisation of Eastern Caribbean States was the region worst hit by the fall-off in European arrivals. It registered a 4.1 percent drop in arrivals from the UK, while CARICOM countries, including Jamaica, registered a 1.7 percent fall-off.
Cruise passenger arrivals to the Caribbean are also down, with 13.4 million visitors sailing into the region up to the end of July.
The State of the Industry Conference brought together decision-makers from the public and private sectors, academics, government officials, hoteliers, travel professionals, and journalists from the region and around the world. The conference ran from October 16-18.
Source: http://www.sknvibes.com/news/newsdetails.cfm/80658
---
Oct

09

St. Kitts and Nevis fourth among 16 Best Islands in the World
Another accolade for the Federation of St. Kitts and Nevis.
USA News and World Report has ranked St. Kitts and Nevis in fourth place among the 16 Best Islands in the World and the only Caribbean nation in the top five. Six of the 16 are in the Caribbean.
No.1 is Santorini; 2. Bora Bora; 3. Maldives; 4. St. Kitts and Nevis; 5. Fiji; 6. Maui; 7. Cayman Islands; 8. St. Maarten - St. Martin; 9. Seychelles; 10. Bali; 11. Mykonos; 12. Kauai; 13. Anguiila; 14. Galapagos; 15. United States Virgin Islands and 16. Dominica.
St. Kitts and Nevis is also ranked #2 in the Best Places to visit in the Caribbean; #5 in Best Affordable Caribbean Destination and #7 in Best Caribbean Honeymoon.
Out of 21 Caribbean countries, the overall visit ranking for St. Kitts is #2 in 2012.
St. Kitts is #5 for likeliness of coming back to the island. In the category of Visit Met Expectations, St. Kitts placed 2nd.
The Taxi's and the Local Transportation is 2nd among the 21 Caribbean destinations.
Last year, St. Kitts was named one of "5 Caribbean Islands to Discover Now" by MSNBC. It was also named one of the "Top 12 Spots that should be on your list to visit in 2012" by Caribbean Travel + Life magazine and the island's Brimstone Hill Fortress was one of "10 Great Places To Explore The World's Best-Kept Secrets" by USA Today.
In 2011, St. Kitts was named a top destination for 2011 by both AOL Travel and British Airways.
An international survey carried out by the United States company, Business Research and Economic Advisors (BREA) based on feedback from visitors about their experience to the 21 cruise destinations, found St. Kitts improved its ranking in the overall visit, meeting expectations, taxi/local transportation, historic sites and museums and tour satisfaction categories.
Source: http://www.cuopm.com/newsitem_new.asp?articlenumber=3970&post200803=true
---
Sep

10

Construction of Exterior of St. Christopher Club Garden nearing completion
Construction of the exterior of the building is nearing the final stages. The walls for the fifth floor are up, and all that really remains is the concrete for the terrace upstairs. Click the pictures below for some stunning photos of the views from the fifth floor, our guys getting all the walls in place andhow beautiful St. Kitts is!
Don't forget to check our facebook page for more info, pictures, and general happenings on all of our projects.
Source: https://www.facebook.com/media/set/?set=a.521115717957415.1073741841.130570457011945&type=3
---
May

06

Aviation ministers meet to discuss single Caribbean airline
St. Kitts and Nevis' Minister of Tourism and International Transport, Sen. the Hon. Richard "Ricky" Skerritt was among Caribbean aviation and transport ministers who met in St. Vincent on Tuesday to discuss a wide range of outstanding matters including the possibility of establishing a single regional airline.
Host Prime Minister Dr. the Hon. Ralph Gonslaves speaking at a news conference, said that while his administration has no objection to the formation of a single airline to serve the Caribbean Community (CARICOM) region, such initiatives in the past have not borne fruit.
"At the end of this month, we are hosting here a meeting on air transportation in CARICOM... as you know there are many issues outstanding and as you know I am always amused that the people who are supposed to be thinking about public policy don't look beyond the headlines."
He said five or six years ago, then prime minister of Trinidad and Tobago, Patrick Manning, dissolved BWIA, formed Caribbean Airlines (CAL) and paid off all their debts.
But he said that in 2011, CAL made a loss of US$44 million "and last year they made a loss in the sum of close to US$84 million.
"That is plenty money in any language whatsoever and there is re-thinking of certain things and the call has been made by many persons for one Caribbean airline.
"We have no problem with that," he said, noting that the fine print would need to be examined.
"I am very mindful before BWIA was dissolved, BWIA took decisions where they simply cut off a lot of flights without notice to Barbados, which affected us here in the Eastern Caribbean and I see on more than one occasion where they have acted not consistent with our own transportation needs.
"I am not going to leave the bone of LIAT for the shadow of something else. So I would like to see a complete revamping of air transportation in the region so that we can get all the relevant synergies," CMC quotes the Prime Minister as saying.
Gonsalves has been critical of Port-of-Spain for providing a subsidy to CAL which he said goes against the provisions of the Revised Treaty of Chaguaramas that governs CARICOM.
Source: http://www.sknvibes.com/news/newsdetails.cfm/73117
---
Feb

21

St. Kitts Ranked among the Highest Cruise Destinations in Caribbean
Basseterre, St. Kitts (February 19, 2013) - Demonstrating the economic impact of the growth of St. Kitts' cruise tourism sector, a recent study conducted by US-based research firm BREA (Business Research & Economic Advisors) reports significant increases in cruise tourism expenditures and passenger satisfaction, placing the island among the highest-rated destinations in the entire Caribbean in these categories for the 2011/2012 cruise year. The study also reveals growth in cruise passenger arrivals to St. Kitts of more than 400% over the past six years.
The most dramatic increases over the six-year period were in direct cruise tourism spending, which increased nearly ten-fold from $6.7 million to $70.6 million over the six-year period. Average per passenger expenditures in St. Kitts have almost doubled since 2006, while average expenditures across the Caribbean have actually declined by 2%. Average per passenger spend in St. Kitts was measured at $57.40 in the 2006/2006 cruise year, 40% below the Caribbean average, but increased to $108.90 in the 2011/2012 cruise year, 14% above the Caribbean average.
"St. Kitts' recent outstanding performance in the cruise sector is directly attributable to several initiatives undertaken by Government following the decision to end sugar production in 2005," said Senator Ricky Skerritt, Minister of Tourism & International Transport. "The improvements in downtown Basseterre, the development of shops, restaurants and key attractions, and the increasing the number of certified taxi and tour operators in anticipation of demand growth, have clearly had a very positive impact on the experience that St. Kitts offers to visitors." The Tourism Minister also pointed to the role of the St. Christopher Tourism Authority Prescribed Areas Act which he said, "ushered in the establishment of a greater focus on standards, which were integral to the phenomenal success achieved by St. Kitts in a relatively short time."
The percentage of passengers reporting that they there were extremely or very satisfied with their overall St. Kitts shopping experience was 74% in the 2011/2012 cruise year as compared to just 47% in the 2005/2006 cruise year. For the 2011/2012 cruise year, results of the study show that St. Kitts ranks #2 in the Caribbean in passenger satisfaction with their overall visit and #2 in passengers reporting that their visit to St. Kitts met or exceeded their expectations. The destination also ranked at #3 in the Caribbean in passenger satisfaction with their shore excursion, at #4 in average expenditure per passenger and at #6 in total cruise passenger expenditures.
Concurrently, BREA reports substantial growth in cruise passenger arrivals to St. Kitts, which increased from 117,000 in the 2005/2006 cruise year to 629,000 in the 2011/2012 cruise year, an increase of more than 400% as compared to an increase of 13% throughout the Caribbean over the six-year period.
The BREA study was conducted under the auspices of the FCCA (Florida Caribbean Cruise Association) to analyze the contribution of cruise tourism on the economies of 21 destinations located in the Caribbean and Central and South America including Antigua and Barbuda; Aruba; the Bahamas; Barbados; Belize; the British Virgin Islands; the Cayman Islands; Columbia; Costa Rica; Curacao; Dominica; The Dominican Republic; Grenada; Honduras; Nicaragua; San Juan, PR; St. Kitts and Nevis; St. Maarten; St. Vincent and the Grenadines; The Turks and Caicos; the US Virgin Islands.
Source: http://eepurl.com/vEn_5
---
Jan

12

Air Canada resumes scheduled seasonal service to St. Kitts from Toronto
BASSETERRE, St. Kitts, January 9th, 2013 (CUOPM) - Air Canada has begun its second scheduled seasonal service into St. Kitts' Robert L. Bradshaw International Airport.
The weekly service started in 2012 for the peak winter 2011/2012 travel season which ends in April 2013.
The non-stop flight will operate from Toronto on Fridays and is the twin-island Federation's only non-stop commercial flight from Canada, effectively making St. Kitts and its sister island, Nevis, a more viable winter destination choice for travelers from this key North American market.
Air Canada flight AC1778 arrives at the Robert L. Bradshaw International Airport at 4:15 p.m. every Friday with the same-day return flight AC1779 leaving for Toronto at 5:15 p.m.
Air Canada uses an Airbus 319 aircraft with 108 Economy Class seats and 12 Business Class seats for this flight.
The Air Canada Vacations is very significant for St. Kitts and Nevis as Canada has always been a valuable source market for visitors and investors as well as home to a large contingent of nationals in that North American country.
Source: http://www.sknvibes.com/news/newsdetails.cfm/68186
---
Jan

05

St. Kitts ranks among the Best with Top Media
Basseterre, St. Kitts, January 4th, 2013 - 2012 was a banner year for St. Kitts in the travel press with a number of top publications, including US News and World Report, MSNBC, About.com and USA Today, singling out the island as among the best places to visit.
The most recent accolade, on December 27, went to St. Kitts' popular Mr. X's Shiggidy Shack, named as one of the 20 Great Caribbean Beach Bars by About.com, which had also included Cockleshell Beach in a list of the Top 20 Beaches in the Caribbean earlier in the year.
"More and more respected media outlets are recognizing St. Kitts as our tourism product develops," said Senator Ricky Skerritt, Minister of Tourism and International Transport. "These publications are read by affluent, discerning travelers, who have the discretionary income to spend on our islands to the benefit of our local people. The six-year story of the acceleration of our tourism development since the closure of our sugar industry is a remarkable one that is being discovered by more and more quality media concerns.
In 2006, our Government created a multi-tiered strategic plan aimed to stimulate investment in our tourism infrastructure and a shift to a more targeted visitor. Simultaneously, we began aggressively marketing our destination and focusing on improving our standards and empowering our people in order to reap the maximum benefits from the sector."
St. Kitts is currently ranked at #2 in a list of the 16 Best Caribbean Vacations and #4 in a list of the 12 Best Islands in the World by US News and World Report. Just last month, St. Kitts was named one of the Top 10 Winter Sun Holiday Destinations by PureTravel.com and in November it rated among the Editor's Picks for 2012-2013: Best of the Caribbean by Caribbean Travel and Leisure.
In February, St. Kitts was dubbed one of the 10 Caribbean Islands You Shouldn't Miss - The Best of the Caribbean in 2012" by SmarterTravel.com as well as one of 5 Caribbean Islands to Discover Now by MSNBC (as syndicated from a December 2011/January 2012 article in Arthur Frommer's Budget Travel magazine. The island was also designated as one of the Top 12 Spots that Should Be On Your List for 2012 by Caribbean Travel + Life magazine.
In addition, many of the island's tourism attractions were selected as hot spots to experience in 2012. In January, the island's Brimstone Hill Fortress was cited as one of 10 Great Places To Explore The World's Best-Kept Secrets by USA Today while Cruise-Addicts.com called Port Zante one of "10 Great Caribbean Cruise Ports.
The combined readership for the above designations alone is more than 1 billion, effectively promoting St. Kitts as a premiere vacation destination.
Source: http://www.sknvibes.com/news/newsdetails.cfm/67924
---
Dec

23

UAE residents pay Dh1.4m for a Caribbean passport
Hundreds of UAE residents are investing up to Dh1.4 million in Caribbean island states in return for citizenship.
The expatriate businessmen from countries such as Syria and Iran are becoming citizens of Dominica and St Kitts and Nevis to overcome restrictions imposed on their home countries.
Citizens of those islands are exempt from visa requirements in as many as 140 countries.
"Caribbean islands have a history of offering their citizenship against donations in government welfare funds," said Imran Farooq, chief executive of Premiers, a consultancy in Dubai that handles about 150 applications a year to St Kitts and Nevis.
"More people are taking citizenships in the Caribbean so if their country is under sanction, they can have options. Once they see the value that they can travel freely to various parts of the world, most of these are legitimate businessmen, they take up this option.
"St Kitts and Nevis has been very popular among Iranians, Russians, Pakistanis, Egyptians, Jordanians and Syrians." In this region, 65 per cent of applicants are Iranians, Mr Farooq said.
Only those who live outside Iran are eligible. St Kitts and Nevis suspended its programme for Iranians living in Iran last year.
A single applicant for St Kitts and Nevis will have to invest $250,000, or nearly Dh1m, in the country's Sugar Industry Diversification Foundation.
Another option is the Citizenship by Investment Programme, which requires applicants to invest at least $400,000 in property.
The fees may increase depending on the size of the family and age of applicants. Costs for a family of four can reach $600,000.
In Dominica, a single applicant pays $140,000. Passports for a couple and two children under 18 cost at least $235,000. Additional fees are levied for background checks.
"If you are really getting a second passport, it is not a good sign," said Badie, 38, a Syrian businessman in Dubai who has applied for a Dominican passport.
"A year ago I would not have thought of doing this. I applied out of desperation. I have to travel extensively in the Gulf for my business.
"Saudi Arabia and Kuwait have banned Syrians from entering. I am afraid it could have a domino effect and other countries may also ban us. I want this for my business and as a matter of security."
Mr Badie hopes to have his new passport in six months, but will not live in Dominica.
Alex Woodley, consul general at he newly-opened St Kitts and Nevis consulate in Dubai, said: "Most of our applicants are not just citizens from displaced nations. They are not from one region or country. Participants are from many stable countries.
"There is a significant denial rate. St Kitts and Nevis has a stringent due diligence policy including engaging specialists to check the identity of applicants and make sure no applicant brings disrepute."
A Dubai property firm has sent text messages to residents promising citizenship in St Kitts and Nevis through investments.
"We provide them a vehicle for investment but it is the government who will sign off on whether they can accept it or not," said Munaf Ali, chief executive of Range Developments, developer of the Park Hyatt St Kitts and Nevis.
"We provide this to genuine people who have a good background and aren't involved in any criminal activities. We take an initial deposit of 10 per cent. Once the government approves their application, then we take the full amount. It takes three months from start to finish."
Mr Ali said the ease of visa access made St Kitts and Nevis attractive.
"A citizen wants to become global and have borderless travel. People are becoming richer and would like to travel more. They don`t like these barriers to entry. And businessmen would like to have the luxury to travel visa-free."
Source: http://www.duhur.com/uae-residents-pay-dh1-4m-for-a-caribbean-passport-preeti-kannan-the-national-uae/
---